---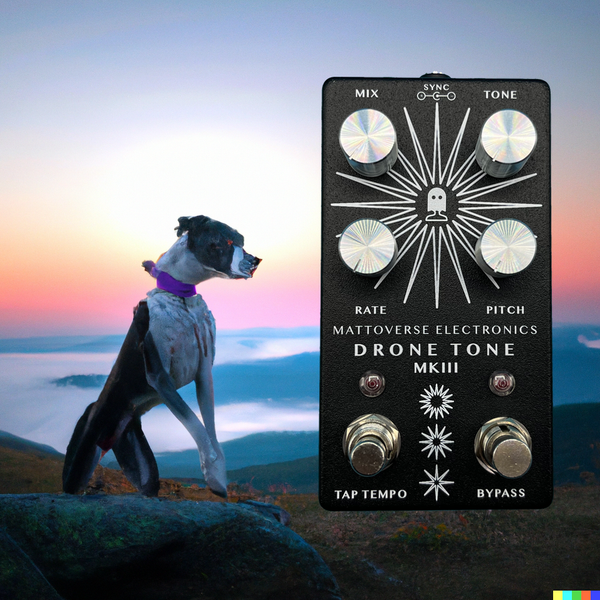 Mattoverse Drone Tone MKIII
$159.00
A drone synthesizer for your pedalboard, the Drone Tone is a pitch and rate controllable square wave oscillator in a guitar pedal format.   
It can be used stand-alone or with an instrument input, however, the instrument input is unaffected and is simply buffered and passed-through to the output jack.  The mix control sets the volume of the square wave oscillator at the output jack.
MKIII adds onboard tap tempo, tempo sync input (0-5V), internal pitch range control, and top mounted jacks.
This pedal makes no sense to most people, probably because it is not a "guitar pedal" in the traditional sense... but it continues to be one of my favorite Mattoverse pedals.  It's simple, fun, and I love tuning it to a pitch or key and noodling along. It also does weird things to the clipping on gain based pedals and is fun with delays, loopers, etc..  Check out the videos below to get some ideas of how I like to use it.
Controls for oscillator Pitch, Rate, Volume, and Tone. 
High-quality off-board top-mounted jacks.  True hardwire bypass. 
DC 9V center-pin-negative power supply only (not included). Current draw is less than 20mA.  

Enclosure Dimensions - 4.77" x 2.6" x 1.39"
Ships via USPS Priority Mail within 1 business day
I do ship internationally, details on the terms and shipping cost can be found by clicking here.