---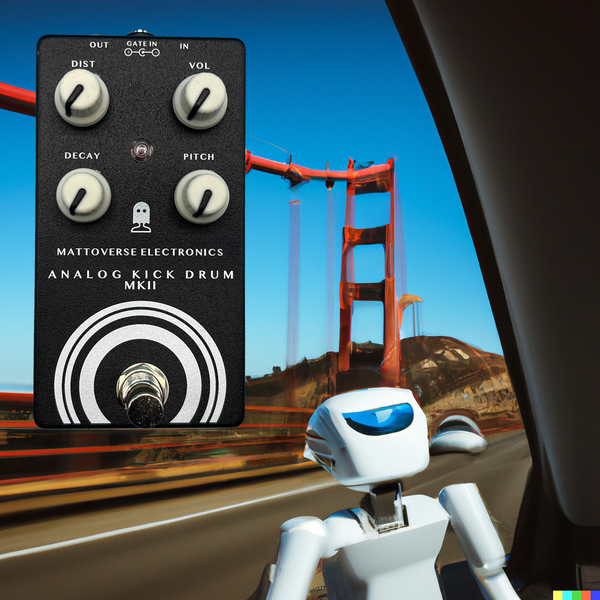 Mattoverse Analog Kick Drum MKII
$139.00
The Analog Kick Drum MKII is the same basic concept as MKI, in that you press the momentary footswitch to generate a kick drum sound, but the entire kick drum circuit has been redesigned for a fatter, broader, and more interesting sound palette.  MKII also has trigger input that can be used to trigger the kick drum, like CV gate for example (0-5V).  Controls for pitch, decay, distortion, and volume.
There is a brief sound demo video below.  Definitely watch the video with headphones as the low frequencies of a kick drum don't necessarily translate well through phone or laptop speakers and it will mostly just sound like pfft, pfft.

Just like mic'ing up a real kick drum, the Analog Kick Drum MKII sounds bigger and fatter through larger speakers, like the 15" speaker in a bass amp or P.A. cabinet or sub-woofers. It works fine through a guitar amp, but guitar amps are not really designed to push low frequencies as well as bass amps and P.A's are, your mileage may vary.

It can be used without an audio input as demonstrated in the video below or you can plug an instrument in and the audio signal will be buffered and summed together with the kick drum sound via the output jack.  Note:  Due to the volume and frequencies of the kick drum sound, your buffered pass-through audio may be distorted when the kick sound is triggered based on the settings of the knobs.
Note:  The circuit is exactly the same as the pedal with the larger enclosure used in the demos, just decided to do the 125B size enclosure for this batch.
All analog kick drum tone generated via momentary footswitch with controls for pitch, decay, distortion, and volume.
Buffered audio pass through
Trigger Input (0-5V)
Standard Center-Pin Negative 9VDC Power only (not included).  Current draw is approximately 20mA.

Enclosure Dimensions - 4.77" x 2.6" x 1.39"

7 Day Return Policy
Ships via USPS Priority Mail within 1 business day